Chef John Newman, C.E.C.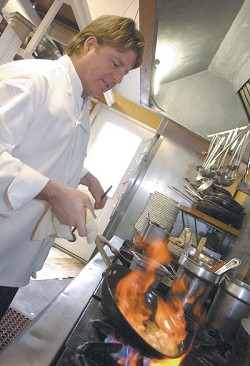 Chef Newman is proud to be Chef / Owner of 2 Cannon Beach establishments on the Oregon Coast: Newmans at 988 and FISHES Sushi and Japanese Cuisine.
Opened in February 2006 Newmans at 988 is a French Italian Eatery in Midtown Cannon Beach and serves an ala carte menu as well as a chef's prix fixe menu that changes nightly. Adorned with white tablecloths and fresh roses on each table Newmans is an intimate dining atmosphere enhanced by the music of legendary singers such as Frank Sinatra and Tony Bennett."Simple Elegance" is the goal. Newmans at 988 was named "Restaurant of the year" by the Daily Astorian in 2006 and continues to receive many culinary accolades.
In November 2011 Chef Newman opened FISHES Sushi and Japanese Cuisine in downtown Cannon Beach, making it the first sushi bar in town. It is Japanese inspired cuisine and features bamboo flooring and low ceilings. Along with sushi and sashimi you will find tempura, noodles and plenty of seafood, vegetarian and meat items on the menu. Chef Newman is focused on using sustainable seafood whenever possible and like Newmans the finest, freshest ingredients the North Coast has to offer. Chef Newman has always wanted to open a sushi bar and is excited to share his passion for Japanese cuisine with others.
Chef Newman attended the Culinary Institute of America in New York and was granted an internship at the Turtle Bay Hilton on the island of Oahu, in Hawaii. Once he graduated from school in 1990, he traveled to Europe to work. Coming back to his roots on the West Coast, he landed at the prestigious Silks Restaurant at the Mandarin Oriental Hotel in San Francisco working under Ming Tsai and Ken Oringer.
In 1995, following a trip up the Oregon Coast, John and his wife, Sandy, moved to Pacific City to manage a local restaurant before John took a job as Executive Chef for the Stephanie Inn Dining Room in Cannon Beach. Chef Newman was thrilled to be back in the hotel business and immediately became known as one of the premiere chefs in Oregon. He stayed at the Stephanie Inn for 8 years.
Chef Newman has cooked several times at the James Beard House in New York City including being selected as the first of twelve Oregon chefs to cook there in 2003 to commemorate the hundred-year anniversary of James Beard's birth, and celebrating his birthplace – Oregon. He is 4-time champion at the Tillamook County Iron Chef Black Box competition and has competed in the Iron Chef Oregon competition at the Bite of Oregon making it to the finals. He is competing this year at the Iron Chef Goes Coastal competition and won the event in its inaugural year in 2008. At the Stephanie Inn Dining Room, he received numerous awards including being a top-two finalist for the Restaurant Good Neighbor award and a recipient of the Gerry Frank Golden Fork award. He participated in a French Chef exchange with the Hotel L'Aigle Noir in Fountainbleu in 1999 and was a guest chef at the 2002 Capitol Holiday Tree Lighting Ceremony in Washington D.C.
John has participated in the International Pinot Noir Celebration in Oregon as well as many charitable events – March of Dimes Signature Chef's Auction, ZooLaLa, and the Bite of Oregon to name a few. From 2005 to 2007 he was the coach for the Seaside High School Culinary ProStart Team and the Culinary Instructor at Tongue Point Job Corps in Astoria from 2007 to 2009. He is currently a consulting chef for the Cannon Beach Christian Conference Center in & sits on several advisory committees including Le Cordon Blue in Portland, the United Way of Clatsop County and The Lighthouse for Kids in Astoria.
Chef Newman received his Certified Executive Chef title in September 2008.