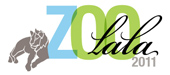 Oregon Zoo : Portland, OR
Saturday, July 16, 2011 at 7:00 p.m.
ZooLaLa has come and gone, a fun filled evening of fine dining and entertainment which took place under the stars at the Oregon Zoo. Chef John Newman served up a special recipe for the event which benefits the Zoo to You youth outreach program. For more information visit www.OregonZoo.org/Support/Zoolala/.